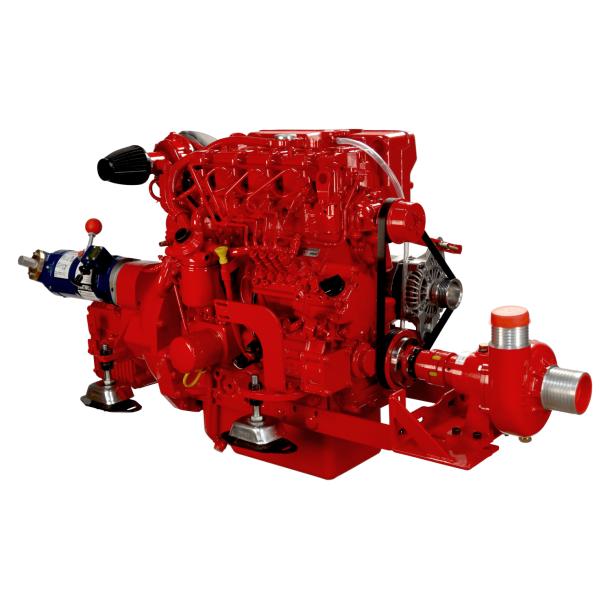 BUKH D2-75
BUKH LIFEBOAT DIESEL ENGINE
75 EFFECTIVE AND DISCIPLINED HORSE POWERS GUARANTEE SAFE AND TROUBLEFREE SAILING.
Emission compliance US EPA Tier 3 / EU RCD II - This design allowed the engines to pass and obtain the US Coast Guard approval for use as lifeboat engines.
D2-75 is an in-line 4-cylinder, 2.2-liter, charge air cooled diesel engine using a camdriven, in-line injection pump, and freshwater cooling. With low cruising rpm, the engine runs quietly with minimal vibrations. SOLAS approved starting systems , Bukh can combine spring start with traditional electric start.
TECHNICAL DESCRIPTION
Engine block and head
•
Cylinder block and cylinder head manufactured from high grade cast iron. Crankcase features a rigid tunnel block design.
•
Chrome molybdenum forged crankshaft, statically and dynamically balanced with integral counterweights. pistions are cast from high silicon aluminum, are heat treated and fitted with two cast iron, chromium faced compression rings and a single oil ring.
•
Replaceable, hardened valve seats
•
Elastic coupling on flywheel
Engine mounting
•
Flexible engine mounting
Lubrication system
•
Spin-on fulflow oil filter
•
Separate oil scavenger pipe
•
Closed circuit crankcase ventilation
•
One top and one side oil filling position
Fuel system
•
Flange mounted, cam driven in-line injection
•
Feed pump with hand primer
•
Spin-on type fine fuel filter
•
Auxiliary stop button on engine
Cooling system
•
Keel cooling (Standard)
•
Coolant water heater 42 V - 350 W (Option)
Electrical system
•
12V corrosion-protected electrical system
•
115A marine alternator
•
24 V alternator as option
•
Charging regulator with electronic sensor for voltage drop compensation
•
Glow plugs for excellent cold starting
•
Electric starter motor(2.0 kW output)
•
Electric stop
Instruments
•
Start/stop panel
•
Tachometer with alarms and engine hour counter
Optional equipment
•
Front mounted spraypump kit
•
Cooling water heater
•
Certified cold start to minus 30 degrees
•
Springstarter in combination with electric starter
Reverse gear
•
MS25L - Mechanical drop center with streight output shaft - Ratio 1:2,74
SPECIFIKATIONER
| | |
| --- | --- |
| 50 rps (3000 rpm) | 75 HP (55 kW) |
| 33 rps (2000 rpm) | - |
| Reverse-reduction gear ratio | 2,74:1 |
| Engine rotation (looking forward) | Anti-clockwise |
| Propeller rotation (looking forward) | Clockwise |
| Number of cylinders | 4 |
| Bore and stroke | 84x100 mm (3.31x3.94 in) |
| Swept volume | 2200 cm3 (134,2 cu in) |
| Cycle | 4-stroke |
| Cooling system (standard) | Keel-cooling |
| Electric starter motor | 12V, (2.0 kW) |
| Charging alternator | 12V, 115 Amp |
| Engine crankcase vent syst | Closed |
| Weight dry kg | 258 |
| Electronic engine diagnostic | NO |